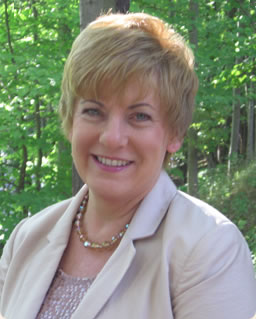 Dr Linda Feduska DDS FAGD
A Passion for My Profession
I love dentistry. It allows me to blend all my talents and passions: art, science, and truly making a positive difference for people. Helping my patients achieve and maintain their aesthetic best and a healthy smile makes me happy, and I love it when someone we have cared for, for more than 35 years, thanks us because they still have their own teeth.
That's what it's all about. It starts with a conversation to learn about the person's dental goals and overall health, and then developing a treatment approach that is right for them. I might recommend a nutritional assessment or dental hygiene instruction, suggest new or different dental products, and offer restorative treatment or orthodontics. Whatever the person's goal, solutions are available, but I can't start helping until I truly understand the person's needs and desires.
While I love the hands-on aspects of dentistry, it's the people we treat that make me the happiest. Patients here range from 2 to 102, and once we start seeing a patient, he or she becomes like a member of our own family. After years of practicing, it warms my heart to know we are often caring for the third generation of a family. I am honored by their devotion to our practice and the care we deliver.

Professional Affiliations
Commitment to Continuing Education
There have been many advances in technology, methodologies, and materials since I attended dental school. In order to stay current and able to offer my patients the best care options, I participate in many hours of continuing education (CE) each year.
I appreciate the Academy of General Dentistry's (AGD) effort to encompass all 16 disciplines of dentistry, and pursue a lot of my CE through the AGD. I've earned my fellowship in the AGD and am working toward my mastership. I am also an associate in the International Association of Orthodontists, am working toward my Diplomate status, and am active in the Pennsylvania Academy of General Dentistry.
Personal Life & Community
I'm a native Pennsylvanian, having called Marshall Township my home since 1985. My husband and partner in the practice, Dr. John A. Kokai, and I have two adult daughters, Valerie and Colleen, and a very small Teacup Yorkie, CoCo.
I keep busy when I'm not at work, whether I'm enjoying being outside, biking, going on day hikes, walking at the beach, or spending time in the garden. I also enjoy cooking, decorating, reading, and music of many genres.
I believe in giving back to the community, to the best of my abilities. In addition to offering free screenings as part of the Oral, Head & Neck Cancer Awareness program, I'm also involved with Women at Risk, the Breast Cancer Awareness Campaign, and am a volunteer with AGD Cares.
See what our patients are saying about us and join the thousands of happy patients we've worked with over the past three decades.